Photo archive
Photo Archive is a PHP based script that can generate a file browser style environment within a web browser for viewing photos on a web server.
To install:
1) Upload the contents of the zip file to the desired location on your web server.
2) Upload your images or folders of images to the 'images/' directory.
3) Open a web browser and go to the location of the 'Photo Archive' ript, browse & enjoy.
Requirements:
PHP 4.3.0 or higher
Change-log:
Version 1.3
Added code to automatically generate thumbnails for each image when users view a gallery.

When viewing galleries with more than one page the arrow keys and B (back)/N (next) keys have been bound to changing page.
Information txt links have been moved to show after the list of subdirectories giving a more streamlined appearance.
When viewing galleries with more than one page the previous and next buttons have been enlarged to the full height of the contents div along with being given a pastel background.
Version 1.2
Replaced lightbox with colorbox due to it's ability to display a wider range of content and smaller size.
Added a preview of the contents of each folder on hover.
Added the ability to read .txt files to allow users to include an information file within each folder.
Version 1.1
Cosmetic work to enhance the look and feel
Worked on PHP code to display images in alphabetical order (0-9, A-Z, a-z)
Viewing the folder structure, along with the preview images by hovering over a folder: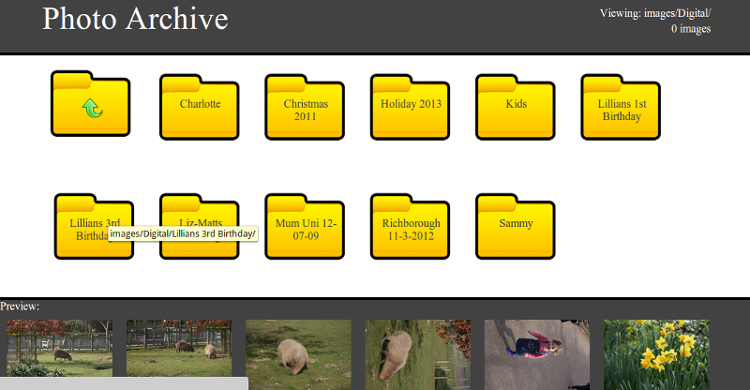 Viewing a folder containing images, a sub folder and a .txt file: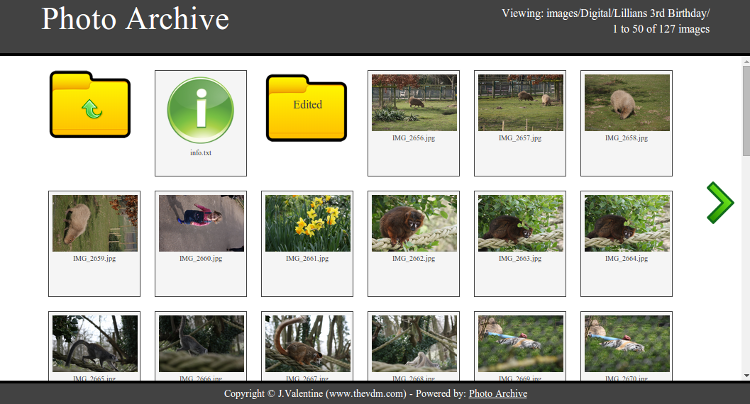 Viewing an enlarged image by clicking on the thumbnail: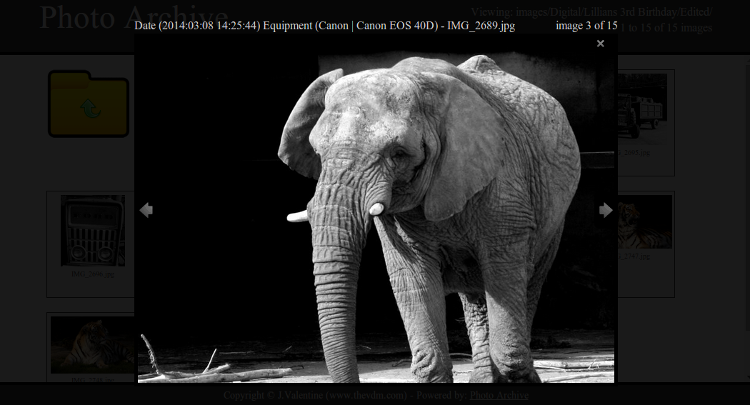 Viewing the contents of a .txt file by clicking the information link provided: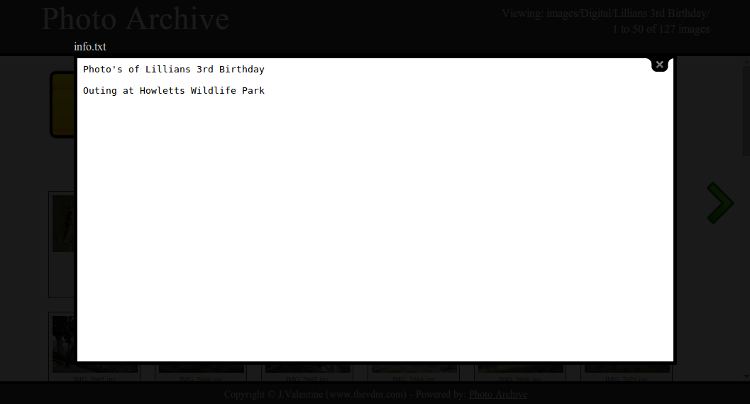 This software is provided free of charge without any warranty. We appreciate the 'Powered by' section of the footer being left intact.